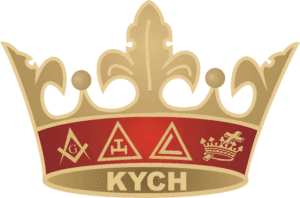 Knights of the York Cross of Honour (KYCH) is a Honor Group of York Rite Masons who are dedicated to serving the Masonic Fraternity as a Labor of Love. Membership is by invitation and cannot be requested. A York Rite Mason may be proposed for membership by a member of the KYCH after having served as:
Worshipful Master of a Masonic Lodge
High Priest of a Royal Arch Chapter
Thrice Illustrious Master of a Council of Royal and Select Masters
Eminent Commander of a Commandery of Knights Templar
When a Priory receives a proposal, it must be held over until the next stated meeting of the Priory before it is balloted on.  Balloting rules vary in different Jurisdictions, to comply with Grand Lodge Rules and Regulations. The proposed Mason should not know that his name was proposed until he is official notified that he is elected to be invited to petition to membership.  
A member of KYCH. who has served any of the four Grand York Rite Bodies as presiding Officer is thereby a Knight Grand Cross of Honour (KYGCH), with one Quadrant for each of the Grand Bodies he has served.  This means that if he has served any of these Four Grand Bodies, before he is inducted into KYCH, he would be a Knight Grand Cross of Honour upon being inducted into membership. If he serves any of these Four Grand Bodies after he is a KYCH, member, then he gets a Grand Quadrant when his term ends for each of those Grand Bodies.
"As a Knight of the York Cross of Honour, you are a proven servant of the Masonic Fraternity. Your inspiration has came from your past, your duty is in the present and your hope is in the Future. I ask you always to remember; in all you do … in all you say … in all of your actions … take a good look at yourself. You are someone's impression of Freemasonry." – Most Eminent Knight Donald E. Friend, Grand Master General,
In Arizona:
There is 1 Priory of Knights of York Cross of Honour in Arizona: